7 CHICK FLICKS THAT GIVE CHICKS A BAD NAME
8comments
I love romantic comedies.  If there is a charming man and a strong-willed woman who don't know that they were made for each other, I'm there – with popcorn and a diet coke.  Though I'm a complete sucker for a good romantic comedy, I've never understood why so many portray women in the worst light.  Why can't the women in the films be as strong and intelligent as the women watching them?  That being said, and despite their success, these 7 chick flicks really piss me off.
1. Pretty Women (1990 – starring Julia Roberts and Richard Gere)
The Message and Content of the Movie:


Beside creating the global phenomenon that is Julia Roberts, this massive hit showed women everywhere that any stunningly beautiful yet slightly kooky hooker-with-a-heart-of-gold can totally get the great, successful guy in the end.  Vivian was sassy (romantic comedies love a sassy women), blue collar, down to earth, and remarkably drugfree for an LA hooker.  Add to that combo one good tie-adjusting scene with Edward (Richard Gere) and by the end of the film he reexamines his entire life and business agenda, costing him millions.
Now,  I'll be the first to admit my old love affair with this movie growing up.  I thought it was romantic, funny, and adorable.  Not to mention that my good friend's grandma made her an exact replica of the polka dot dress from the polo match scene, and I was incredibly jealous.
But I've gotten a little wiser since then.
What's wrong with this film:
First, it created the never-ending global phenomenon that is Julia Roberts. I know everyone loves her, but I don't get it. That aside, it makes prostitution into this kind of female empowerment "I say who, I say when", girl-bonding type of career.  It reinforces the idea that one day, any girl on the street could be lucky enough to have some millionaire come in and sweep her off her feet, or more specifically, off her Bob Hope star on Hollywood Boulevard. I realize it's a modern day version of Pygmalion or should I say Cinder(fuckin)rella, but in those originals the woman were honest, virtuous and hard-working, not prostitutes.


2.  Love Actually (2001 – starring every popular British actor)
The Message and Content of the Film:

Christmas, love, crushes, relationships with every British actor who has since gone on to work in the Harry Potter films – that's Love Actually. When I first saw this movie, I loved it, except for the weirdo, bad-toothed British guy getting a threesome in Wisconsin with Jack Bauer's daughter and the American Pie stripper. (Crappiest subplot ever) From Keira Knightley's new husband's best friend's creepy infatuation, to the Prime Minister of England getting a smitten with the help, to Liam Neeson's dead wife's son with a crush on a girl at school, to adorable porn stars going on a first date… yeah, it's kind of weird actually.
What's Wrong with this Film:
At first glance, what's not to love? My sister has since adopted this as her ritual Christmas watching movie, beating out It's A Wonderful Life, among others. But while rewatching it with her last year I realized a common, odd thread in the film.  All of the strong male actors (Hugh Grant, Alan Rickman and Colin Firth), make moves on much younger, female employees. Just because the younger women seem to reciprocate the feeling, does that make it okay? It is cool for the boss to hit on his employee? And, for that matter, why is it that all the men are the much older bosses, and the women are the young inferiors? Not cool, Love Actually, not cool.  The two age appropriate women – 2 badasses in my book – Emma Thompson and Laura Linney – are portrayed as tired and frumpy.  The worst is Laura Linney, who is given a total Italian hottie (thank you for that eye candy), but gives him up for her mentally disabled brother. I've talked to a lot of women and in the throws of post Christmas party free drinks, and if, after a long time without having sex, the hottest man in London is kissing you, you are going to find a way to multitask. I'm not saying she should have ditched her brother, but the filmmakers could have figured out how she could be noble and still get the guy! The whole message of this film is younger women get the guys. And as women, we know this is very often true. But let's keep in mind this is not a documentary or an art film, it is a romantic Christmas movie, which is why it leaves me with a little bit of a bah humbug feeling. The only truely empowered female in the whole film is the little girl who sings that awesome version of "All I Want for Christmas is You" at the end.

3. Notting Hill (1999 – Julia Roberts and Hugh Grant)
The Message and Content of the Film:
Julia Roberts is a famous actress, Hugh Grant is an awkward bookshop owner in London. They meet, have a wacky/adorable first date, but their two vastly different lives create too much pressure on their one weekend romance. They have a fight, and then realize they are the love of each other's lives.  Few can sell romantic comedies as well as Julia Roberts, or even the line that makes me puke a little in my mouth every time I hear it ,"I'm just a girl, standing in front of a boy, asking him to love her." Simple enough, maybe even adorable. So all's well… but not really.


What's Wrong with this Film:
This film bugs me because it completely dismisses the fact that Julia Roberts has a relationship the entire time she has her weekend affair with Hugh Grant. Somehow movies can make cheating so cute when they throw in some quirky friends and a whoopsie-daisy interlude. That her boyfriend is a jerk is supposed to let her off the hook for cheating, but that it total crap. Cheating makes you an asshole, even if the guy you are cheating on is an asshole. Hugh is appalled when he learns she's has a boyfriend… because that is normal human behavior. If this movie is to be believed, just a quick apology about lying and cheating makes said lying and cheating okay.  I'm not a saint, nor do I expect everyone to act like one, and some people meet the love of their lives while seeing someone else, but call me old fashioned – I think there should be SOME consequences. I don't know what magic power Julia Roberts has, but in every movie where she is manipulative, insensitive, a liar or just plain mean, all she has to do is smile and we all fall back in love with her.  It's pretty impressive.
4. Serendipity (2001 – John Cusack and Kate Beckinsale)
The Message and Content of the Movie:
Upon first glance, this movie seems romantic and idyllic.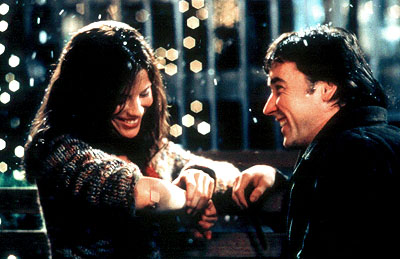 John Cusack (pretty much a mainstay forromantic comedies and forever in girls' hearts as Say Anything's Lloyd Dobler)  runs into the beautiful Kate Beckinsale while shopping at Bloomingdales.  A fight over a pair of gloves ensues.  Really? New York City at Christmas while you're making last minute crappy Christmas purchases and you're going to fight over gloves? Are gloves really a good gift for a New Yorker?  Wouldn't they already have gloves? I live in California and I have 3 pair.  Cusack and Beckinsale (despite being in committed relationships) have one dreamy, romantic evening together but after a whole discussion about fate, they leave their name and numbers on $5 bills and inside book jackets and go their separate ways.  The rest of the movie is these two trying to find each other… before their impending weddings.
What's Wrong with This Film:That they are both about to get married!  Kate Beckinsale is engaged to new age musician John Corbett (as in hot Aiden from SATC). Put John Corbett in a sari and he's a dork, but if he's a furniture maker he's hot? They live together and are engaged. If I'm trying to track down a guy I spent one night with in New York ice skating but am living and sleeping with another man, maybe I should just not be engaged. If I'm more interested in a guy I met once years ago than I am in my fiance, my priority should not be finding the other guy. It should be breaking up with my fiance regardless of whether I find that other guy or not. Cusack's situation is that he's tracking down Beckinsale in the last weekend before his wedding.  I think I'd rather my fiance have a stripper hook-up at his bachelor party than an obsession with another woman the way that he does in this movie.  And who is Cusack engaged to? Super-smoking hot Bridget Moynahan. I know we are supposed to root for Cusack and Beckinsale, but I guess I just watch it and am horrified at what manipulative liars they are to the people they still claim to love.  There are some discussions about fate which I suppose are meant to justify their behavior, but here's an idea… How about they just break up with their fiance(s)? (Yes, they do this in the end… but by then I just wanted Jeremy Piven and Molly Shannon to be the leads in the movie).
5. Failure to Launch (2006 – Matthew McConaughey and Sarah Jessica Parker)
The Message and Content of the Movie:
Matthew McConaughey still lives in his parent's house, enjoying all the comforts of mom's cooking, laundry duties, and free rent while also using it to dissuade any real or mature relationship from developing (due to some sappy dead ex-girlfriend backstory intended to make him seem something other than a total tool). Enter Sarah Jessica Parker's "expert" character who lets the guy fall for her, makes him feel independent and self-assured, which helps him move out and on with his life. Of course this doesn't work (like nothing else in the film). They fall for each other, get in a fight, and then get back together. Rather than dwell on how bad this movie actually is (and why SJP would make this), let's look at the the other horrible ideas and roles it perpetuates.
What's Wrong with this Film:
What women has a job or even a business plan that step 1 is: make clients fall in love with me? SJP may be endearing, but this is just stupid and gross.  Not to mention that Matthew McConaughey and Bradley Cooper are these super hot dudes that make great money and are fine living at home.  No one denies some parental support, especially in this tough recession, but this movie is  saying – 'Hey, we're hot dudes that take advantage of all women, including our mothers.' The whole film is painful.  When both leads seem like shallow, vain people – who wants to see this?
6. Ghosts of Girlfriends Past (2009 – Jennifer Garner and Matthew McConaughey)
The Message and Content of the Movie:
This is basically 'A Christmas Carol' movie version of dating. Instead of Christmas, it's a wedding, and instead of a cheap, cold bastard, we have a womanizing, douchy bastard, played to perfection by Matthew McConaughey (where's his Razzie award for most consistent crappy romantic comedies). Three ex-girlfriends take McConaughey through his player days (which is excused because his parents died and in his 8th grade crush, young Jennifer Garner, didn't dance with him. Seriously, why does the dead parent/girlfriend equal a get out of douchebaggery free card in romantic comedies?)  These are apparently good excuses for becoming a misogynistic manslut. The best part of this film is McConaughey's ability to keep his shirt on for the entire movie. Wow.


What's Wrong with this Film:

Jennifer Gardner is his one true love, his best friend since childhood, who he completely dicked over and treated like a one-night stand because he couldn't handle the feelings. One night of visions from ex-girlfriends makes him realize what an ass he is, he comes back and begs Jennifer Gardner to take him back. After some ridiculous act of just, I don't know, being a good brother, all is forgiven. Really?
First, there's just no way she'd still be single.  She's only hot, sweet, down-to-earth, has a smokin' body and plays the role of badass rather convincingly (am the only Alias fan?). I'm not saying that there aren't a plethora of awesome single women in their mid-thirties and beyond. But even if this amazing woman is somehow still single, she's also too old and too smart to take back the guy that's been a total tool since the 9th grade.


7. Bride Wars (2009 – Kate Hudson and Anne Hathaway)
The Message and Content of the Movie:
Two best friends (Hudson and Hathaway) both get engaged at the same time, and are both obsessed with having their wedding at their dream location, The Plaza.
Due to some rom-com manipulated snafu, they both have their wedding scheduled for the same day and neither will back down. They then proceed to sabotage each other's wedding plans and be absolute bitches to their lifelong best friend until finally they see the error of their ways.
What's Wrong with this Film:
Yes, weddings can cause Bridezilla moments in normally sane women, but this is the perfect example of how so many movies love to show women being the worst version of themselves.  These two smart women have full time jobs and are planning their own weddings, yet have hours and hours to devote to Machiavellian schemes all over Manhattan.  It's hard enough to get a taxi in New York, let alone plan with military precision to sneak into a hair salon and change you friend's hair dye to blue. Seriously, who has time?  Also, at what point does a fiance or another good friend (yes, contrary to what movies think, people have more than one friend) not say "you're acting like a psycho, please calm down." And since they are best friends, how are not all their friends not saying they can only attend one wedding?  Have movie producers never gotten married? Women this obsessed don't plan weddings in a few months, it takes at least a year. Minimum.  I know movies have limited time, but just an ounce of truth would make me happy. Or an ounce of portraying women with a shred of dignity or class would make me even happier. I know that we all like to see amazing clothes in amazing locations. Who doesn't love eye candy? But two people so selfish that they are willing to waste the tens of thousands of dollars that it would take to plan a wedding at the Plaza because they didn't get their way are just completely grosss.
Okay, clearly I have some opinions on these films. Do you agree? Are there others I've left off the list?
BACK TO TOP