Crazy In Love, or Just Plain Crazy?
3comments
It doesn't matter how much of a "modern independent woman" you fancy yourself to be.  There's always that one story.  You know the one.  That love story that completely takes you over and turns you into a pile of romantic mush.  It makes you sit back and lose yourself in a daydream where everything is perfect and Prince Charming and his white horse are just a stone's throw away.
However, there is one thing that those stories don't show us: reality.  Sometimes even the most romantic tale can look pretty insane in the harsh light of day.  Don't believe me?  Let's take a closer look…
Story:  The Disney Delusion
Romance Factor: 10/10
There are few people in the world that love Disney and its rose-colored, dancing animal, singing princess kingdom more than I do.  Walt's (alleged) personal politics aside, who doesn't want to live in a Disney movie?  The Princess, who is always angelically beautiful, meets the handsome Prince.  They fall head over heels in love at first site and sing a romantic duet in their mutually gorgeous singing voices.  There is always an obstacle to overcome, usually courtesy of some malevolent magic, but in the end the Prince rescues the Princess and they live happily ever after.
Crazy Factor: 10/10
I wish we could pull a Spinal Tap and crank this one up to 11 because the Disney crazy factor is seriously off the charts.  Look, I love "and they lived happily ever " too, but let's look at this logically.  Take "Cinderella" for example.  They met for one night.  He didn't even know her name.  Yet, he married her because the shoe fit.  And, they lived forever in wedded bliss?  Here's a more realistic take on how it probably went down:
Prince Charming: So, what's your family like?

Cinderella: Well, my parents are dead and my stepmother and stepsisters forced me into white slavery at a young age.

PC: Wow, that's …ah…that's a lot of baggage.

Cindy: I mean, I'm okay.  There were lots of animals around for me to play with.

PC: I guess that explains the t-shirt wearing mice.

Cindy: They're my friends!

PC: Yeah, I'm not cool with vermin running freely through the castle.
Story: The "Shopaholic" Series by Sophie Kinsella
Romance Factor: 6/10
For those who haven't read the books or seen the movie, the "Shopaholic" series is about Becky Bloomward, a charming young British girl with a real passion for fashion.  Becky gets herself into all kinds of trouble, in part due to her severe spending habits and in part due to her tendency to attract all sorts of misunderstandings.  Becky's beau Luke remains firmly devoted to her, despite the fact that he is a money savvy financier.  Call it a true case of opposites attracting.
Crazy Factor: 7.5/10
Opposites do often attract.  In fact, it's usually a good idea to date someone that is different from you.  It creates a balance.  However, the "Shopaholic" series stretches this theory of opposites into the theory of oil and water. Sometimes the yin and the yang bring out the best in each other and sometimes they bring out the worst.  To point: in the latest installment, Luke tells Becky that they need to save money.  So Becky decides to throw a huge party, completely disregarding her man's request that they live frugally.  Oh, she tries to save money but, of course, things go awry and the more she tries to save, the more she winds up spending.  The reality is that unless Luke is some sort of saint there is no way he is going to put up with her continued shopaholic tendencies (see what I did there?).  Seriously, we're now on book 6 and this girl could use her own episode of "Intervention."  Frankly, Luke could be well served by one of those enabler programs as well.
The Story:  Ben Affleck and Jennifer Lopez (aka Bennifer 1.0)
Romance Factor: 5/10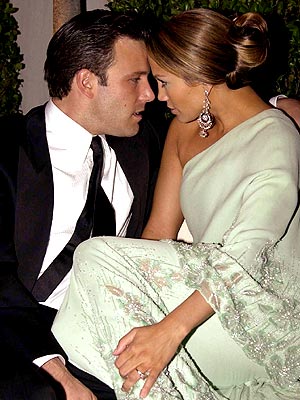 We all know the story: they met on the set of "Gigli" (possibly the worst movie ever committed to film).  He was a charming Boston boy and she was Jenny from the Block.  They fell madly, deeply, passionately in love and inspired a media circus unlike anything that world had ever seen.  They seemed to have it all: a glamorous life filled with shiny and expensive toys (his and hers Bentleys and let's not forget the million dollar pink diamond engagement ring), jointly fantastic careers and more joy than any of us could ever dream of.  It seemed like the world couldn't get enough of the jointly monkiered "Bennifer."  Until one day, like Ed Hardy shirts and the Jonas Brothers, we were just over it.
Crazy Factor: 7/10
Be honest: if one of your friends was in a relationship like this one you'd tell them to run and run fast.  Aside from the fact that J.Lo was already married to someone else when she met Ben, these two represented every relationship "Don't" in the book.  Does anyone remember what Ben Affleck looked like pre-BLo?  Yup, a regular dude.  During Bennifer 1.0 he was slicked and tan and wearing suits that cost more than what he made for "Good Will Hunting."  The adage "don't change who you are for someone else"?  Out the window.  Let's not forget the celebrity romance rule: "if you want to make it as a couple, don't fry chicken cutlets on national television for your significant other."  And then there's your mother's time honored advice: "Don't rush into anything."  Bennifer got engaged before the ink on her divorce papers was dry.  And that's not only crazy, it's also incredibly tacky.
The Story: Hey There, Delilah by the Plain White T's
Romantic Factor: 8/10
This sweet little ditty was popular a couple of years ago.  The girl, Delilah, moves away and the singer is telling her that everything will be all right because they're so in love.  A little distance will never affect a relationship so completely based on true love.
Crazy Factor: 8/10
Crazy romantic, huh?  Well, especially if you put an emphasis on the crazy part.  It turns out that the singer did, in fact, know Delilah.  However, they didn't  have a serious relationship.  In fact, she had a boyfriend.    Kind of creeptastic, right?  New songwriting lesson, ladies and gents: if you're going to write a love song about someone you barely know, change their name first.
As humans, we crave drama.  Oh, we may not care for it in our own lives but we seek it out in the lives of others.  How else to explain the fact that People and Us Weekly sell like hotcakes or that people make it a point to TiVo TMZ on a nightly basis?  The thing to remember is that drama doesn't necessarily equal romance.  Sometimes romance is sitting on the couch with your sweetie or a knowing smile exchanged over an inside joke.  High drama romantic stories are often like shooting stars:  they burn brightly for a moment and then come crashing down in a ball of flame.  To wit:  I had the opportunity to hear Ben Affleck speak following a screening of  "The Town."  An eager newbie filmmaker asked for his advice to up and comers.  Ben's answer?  "Don't do a movie with your girlfriend."  See?  Even he gets it.  Sadly, he had to live through Gigli to learn his lesson…but you don't.
BACK TO TOP