Is Bethenny Frankel the new Carrie Bradshaw?
1comment
There isn't an episode of
Sex and the City
I haven't seen. Thanks to On Demand, HBOGo, E! and TBS, I can still watch them over and over again – which I do. With her clothes, shoes, fabulous body and writing career, I've often dreamed I could be Carrie Bradshaw – until I realized someone already was.  Bethenny Frankel.  As I watched her season finale and her mega $120 million Skinnygirl Margaritas deal splash its way across the trades, I realized she is fairly adored by women.  From her days as a 
Real Housewife of New York
to her best-selling books, her Skinnygirl Margaritas, and hit Bravo series 
Bethenny Ever After
, I've been on Team Bethenny.  Think about it, she is Carrie Bradshaw, only she's not fictional. We've watched this fabulous thirtysomething New Yorker fall in and out of love, have no money, have lots of money, go to amazing restaurants and bars, wear incredible outfits while surrounded by a funny group of friends. Bethenny or Carrie?  My point exactly.  Let's take a look at a fictional character vs. the real one.
1. Signature Cocktail 

Carrie:  Who didn't start ordering Cosmopolitans after episodes of SATC made that and Manolos a must have? And frankly, it's still a great drink.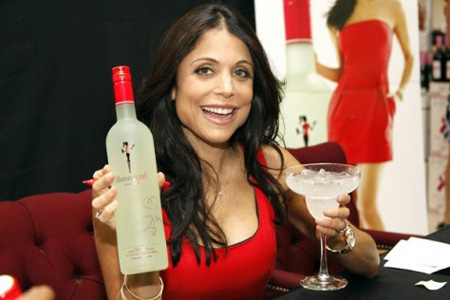 Bethenny:  She took the standard margarita (always a winner) and made it 100 calories. If that's not the idea of the century, I don't know what is.  Skinnygirl Margaritas continue to grow in popularity if not proved with the $120 million deal she just made with Jim Beam .
2.  Looking for love
Carrie: While the series had a lot of sex, Carrie was always looking for love. There was the Big rollercoaster, but don't forget Aidan, Burger, the Russian, and many more men.
Bethenny:  When we met her she was dating a Jason and hoping to get married.  Amidst a slew of first dates, set-ups and flirting, Bethenny married another Jason. From single, to dating, to falling in love, marriage and a baby – it's like we got Miranda and Carrie in one.
3. New Yorkers
Carrie: The 5th character in SATC was always New York City.  There was hardly a Manhattan neighborhood they didn't give some love.
Bethenny: She was the original single girl of the Real Housewives of New York.  She showcased almost as many brunches, parties, openings, etc. but with less cigarettes and more food trucks.
4. Therapy vs. interior monologue

Carrie: Her job as a columnist allowed us to hear Carrie's inner dialogue – just a lot more witty and well-written than most of us.
Bethenny: She bravely (or wisely considering her ratings) allowed Bravo to film her therapy sessions. Instead of inner dialogue, there are a lot of tears and discussions about parents.
5. Smart, Funny Women
Carrie: Above else, Carrie and the girls were always funny. So many good lines, too little time:  "I like my money where I can see it… Hanging in my closet."  The one-liners came fast and furious in this show. And I loved them for it.
Bethenny: From her clashes with Kelly Bensimon, her zingers about Simon, "Tell him he's in the midst of a deep homosexual panic," and her ability to never take herself too seriously, Bethenny could launch a new career in comedy writing.
6.  Writers

Carrie:  Carrie wrote her Sex and the City column, which then developed into her publishing career.Another part of her fiction that I'm deeply jealous of – well, not as much as the shoes.
Bethenny: While originally a chef, her successful "Naturally Thin" book and then her subsequent follow ups have given her 3 New York Times Bestsellers.  I think I'm more jealous of this than her awesome body.
7. Amazing bodies and great rack
Carrie: Watching Carrie's fashion parade was made all the more fun because Sarah Jessica Parker's body is ridiculous. She can wear anything.  Those legs, those toned arms, those boobs. Insane.
Bethenny: Pretty much the same thing. Great legs, great boobs (but from a 'lift' instead of a boob job?), same toned arms. She looks great in anything. I hate her.
8. A life of amazing openings, parties and fashion

Carrie: As a perfectly written female character would, Carrie went to incredible events almost every episode, conveniently allowing her to wear a showstopper every time. I know this was TV, but I know few women that wouldn't love to have a calendar half as full with amazing events (and the income for the wardrobe it would require).
Bethenny: Due to her rising star status, her fame from the Housewives series, not to mention that in New York there are incredible events every night, Bethenny seems to live on the red carpet.  I can live vicariously and dream that I would ever have that many cocktail dresses and heels to handle such a social status.
BACK TO TOP