True confessions of a former contestant on 'The Bachelor'
3comments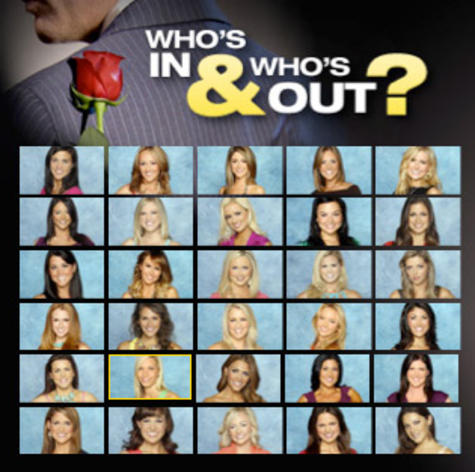 So it's Monday, which means tonight one young lady will have her heart broken on national television. OR, one young lady will dodge a Bachelor sized bullet… it all depends on your perspective.
As I've mentioned, I have a bit of a love/hate relationship with The Bachelor. Which is to say, I hate how much I love this damn show.
I have no problem admitting to watching Top Chef or Project Runway, because with those shows, you're watching talented people compete against each other using their respective skills.  And I even feel okay about watching shows like Survivor or Big Brother, because the motivations of the contestants are, in a twisted way, completely pure… they want to win money.
With The Bachelor, it is a bit murkier. Supposedly everyone who goes on The Bachelor does so to find love, but after so many seasons, it's hard not to watch it without thinking that some (if not most) are only there to become reality television stars. But I still watch it. I find it absolutely fascinating… sometimes because it is legitimately engaging and sometimes because it is impossible to look away from the boozy train wreck.
So when my friend and Bachelor alum agreed to do an interview with me about what it is really like to be on the show I was thrilled. As I mentioned last week, not only was she one of the 25 women (can't tell you which season. Sorry), she made it down to the final two.  We're not going to use her real name (we'll just call her Rose, because she got so many of them) because I wanted her to be as honest as possible without worrying about hurting anyone's feelings.
I have to say, talking with Rose completely changed my perception of the show. For one thing, I used to get a really annoyed by all the crying – some of the women have only known this guy for two days and they're completely devastated to be sent home? As I learned from talking with Rose, often the tears are as much about leaving friends behind as it is about the guy. And yes, the women may have only known the Bachelor for a few weeks, but these aren't normal weeks. These are reality television weeks, and that is a whole different ball game.
So without further ado, here's part one of the interview.
What Made You Want to be On the Bachelor?

My friends signed me up for it. Originally, they applied for me to be the next Bachelorette.  I helped them make the video, and then producers started calling me to talk me about being the Bachelorette, but then they decided to go with someone who'd been on the previous season of The Bachelor.  Then producers called me to be one of the 25 women on The Bachelor, but I didn't want to be one of 25 women.  I wanted to be the one doing the choosing, but my friends thought it'd be a chance of a lifetime.  I figured, why not?

What was the initial process like once in LA?

There are extensive interviews. They want to know everything about you. You sign confidentiality contracts, you have blood work drawn and then you meet with a psychiatrist.

What were the first few days like?

The women get there 3 days before the Bachelor, so we had a lot of time to hang out and get to know each other.  When you see women crying leaving the first night, it's because they'll miss their new friends. You're with these women 24/7. You become close so  when they leave suddenly, it's emotional. When you see the women crying at the end, it's less about the Bachelor and more about missing the other girls and the experience in the house.

Were you initially attracted to the Bachelor?

No, not really.  At first site, he wasn't really my type. And that first night, I didn't get a lot of time with him. It took getting to know him. He was very personable and we were very much alike.  Although the producers later told me that he was very chameleon-like. He'd be whatever he needed to be with each woman.

How much interaction did you have with The Bachelor off camera?

He lived on the same premises of the house we were staying in. So you'd see him in the morning, in the kitchen, but we were always mic'd.

How much contact did you have with the outside world while you were filming? Could you watch TV, use the internet or make phone calls?

Nothing. It was awful. After a while, you'd get to know the crew. They become your friends and you'd ask them what was going on in the world. There would be supervised phone calls if they were job related. I broke down once, just upset and exhausted and I asked to call my dad. They let me, but producers sit there with you while you're on the phone. Phone calls are rare and are only allowed with it is considered necessary. I was starting a new job in the fall, so they let me have supervised phone calls with my new boss.

What do you do to fill the time?

Drink. Workout. Layout. There is always alcohol available.  If you run out of anything – band aids, nail polish, vodka… whatever. You just tell a production assistant and they get it for you.

How much drinking is going on?

You can start the morning with Bloody Marys or Mimosas if you want. There is always alcohol there.  If anything runs out, you just tell them and they'll get it.

Since you can't work while you're on the show, how do women afford to go on it?

I had a break between jobs.  Some of the women used their vacation time. Some are consultants or work from home. Some take their vacation days plus time without pay.

Are there professional hair and makeup for the women, or do you do it yourself? And is wardrobe provided?

The only time there was hair and makeup was for the rose ceremony.  Mostly you do it yourself, and hair and makeup people are there for touchups, but as the show goes on you know which makeup person you like.  As for the clothes, it's all your own clothes. People borrowed dresses a lot. You loaned stuff because you never knew what you'd be doing – riding motorcyles or going horseback riding or whatever. The worst was you had to pack every 3 days for the rose ceremony.  So every 3 days you were packing up all these gowns and cocktail dresses only to unpack it if you were given a rose.  It was a pain in the ass.

Are the women on the show as mean to each other as they are portrayed? Is the drama or cattiness emphasized?  Are you pushed to say mean or rude remarks about one another?

Alcohol fuels a lot of it and you just have no other distractions, and of course you get on each other's nerves. With a few cocktails it's easy to say mean stuff.  I was lucky.  My image or persona on the show was the solid one.  Producers told me I was "the rock" that I had no drama or no games.  I feel that I was portrayed as myself.  But there were times I begged them not to film me or air a breakdown.  I'd get upset and ask them, don't ruin my career over this.  You're stressed, you're missing home, you're tired, you have no independence.  Your friends keep leaving so the longer you are on the show, the harder it gets.

What are the audiences not seeing?

My first date with the Bachelor was 13 hours.  Audiences see 8 minutes.  When he was visiting my home and meeting my family, we were just sitting on my couch talking, and a producer said "You guys are putting us to sleep." So we were forced to have some serious discussion about something, I don't even remember what now.
We'll have part 2 of this interview next Monday, and things will get even juicier. Have you ever watched the show and wondered just how many of the women end up sleeping with The Bachelor? Me too. So I asked Rose all about it. Stay tuned…
BACK TO TOP