When Hollywood turns Awesome to Crap
2comments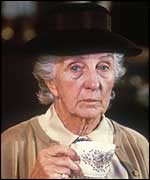 Disney has just announced that they are rebooting the Miss Marple series, with (wait for it) Jennifer Garner.  In case you're not a Miss Marple fan (and frankly, that is a shame), she is one of Agatha Christie's most iconic characters. She is also an elderly, British spinster who lives in the tiny English village of  St. Mary Mead.  Totally Jennifer Garner casting, right? Anyone who's previous roles included serious mixed martial arts training, badass nunchuck skills, or teaching a room full of New York ad execs  the "Thriller" dance just screams Miss Marple casting. And since every depiction of Miss Marple makes Betty White seem positively prepubescent, is Hollywood telling us a 38 year old actress is that old?
I'm amazed that if a film makes Spiderman's suit a little different, the comic book fans are outraged and ready to storm the set, but an iconic female character can be turned into a completely different person, and film studios have no problem with that.
The good news is the Agatha Christie estate is claiming they haven't fully signed off on this deal.  Let's hope they don't.  I'm afraid of the precedent it sets.  CBS would be happy to make a rebooted "Murder She Wrote" starring Scarlett Johannson or Vanessa Hudgens.
BACK TO TOP